"We celebrate and embrace diversity across our business and believe in the value that diversity brings to our business. So that our workforce reflects the diversity of the communities in which we operate, we seek out ways to engage employees with a wide variety of backgrounds and experience, including Defence veterans and reservists. 
Through the support we provide to reservists who work on Ventia contracts and in our corporate teams, we are proud to have received honorable mentions in two awards in Western Australia for which we were nominated by our employees. 
The Australian Defence Force Reserves and Employer Support Awards recognise the support provided to reservists by their civilian employers. Navy, Army and Air Force reservists nominate their employers for significant and/or continued support which contributes to Defence capability."
Fuel Services Team
Regional Manager Fuel Services WA Chris Martindale says his team were pleased to receive an honorable mention at the awards. 
"The team were nominated by SGT Shannon Smith, who as well as serving in the RAAF mechanical services at RAAF Pearce and RAAF Learmonth, also does an exceptional job as a mechanical fitter in our fuels maintenance team," Chris says.
"Our Defence reservist team members are a great asset. It is a pleasure to be able to support them in their important work and an honor to be recognised as an employer of choice by the Australian Defence Force."
Defence Base Services Team
The second honorable mention was for our Defence Base Services team, nominated by Regional Project Delivery Manager Troy Baird for the Large Private Employer category. This category saw Ventia nominated alongside other large corporations such as Rio Tinto, BHP, Alcoa, and Qantas.
General Manager Defence, Gavin Campbell said Ventia's commitment to supporting the careers of both reservists and Veterans is something we're very proud of.
"Private Troy Baird has been a reservist for 7 years," Gavin explains. "He joined because his grandfather served in WWII and because it provides a sense of mateship and a community benefit." 
"For 30 to 40 days of the year, Private Baird undertakes the job of patrolman in regional surveillance working with Australian Border Force and the Australian Federal Police. He is part of the Pilbara Regiment with Headquarters in Karratha. Our reservists have also helped the local communities in times of fire, flood and pandemics."
"Reserves are an essential part of the ADF.  They rely on support of their family, employers and the wider community."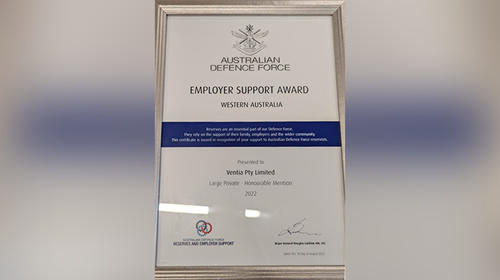 Image Caption: Ventia has received two Employer Support Awards from the Australian Defence Force
Supporting Australian Defence Force Veterans, Reservists and their families
As a member of the Australian Defence Community, Ventia is proudly committed to the employment and ongoing support of Australian Defence Force (ADF) Veterans, Reservists, and their families past and present through our Veteran recruitment, Serviceperson Partner and Reservists' programs. We are also focused on the provision of flexible short and long-term opportunities for skills and career development of ADF personnel through employment in the private sector, and fostering community pride and capability in support to the ADF mission.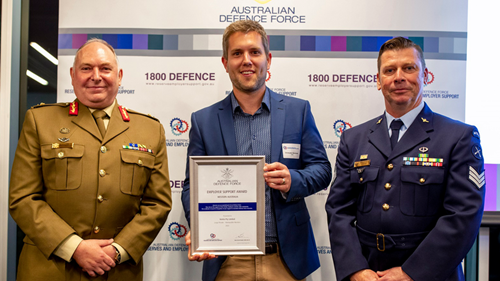 Image Caption: Private Troy Baird (middle) receiving the Employer Support Award on behalf of his team
Original article published by Ventia can be accessed via https://www.ventia.com/news-and-insights/ventia-receives-honourable-mentions-in-wa-defence-force-awards
For more information regarding Ventia: https://www.ventia.com/