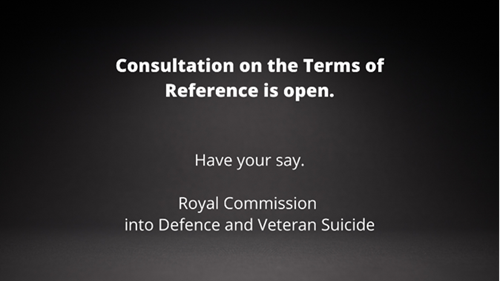 A public consultation process is underway to inform the Terms of Reference that outline what the Royal Commission into Defence and Veteran Suicide will cover and report on.
All Defence personnel, including ADF Reservists and ex-serving members, are encouraged to participate in the consultation process. This is your opportunity to have your say about the Terms of Reference and help strengthen our approach to suicide prevention.
Anyone who would like to provide feedback on the themes for consultation can do so by visiting the AGD or DVA public consultation websites. Feedback closes on 21 May 2021.
If you or someone you know is concerned about mental health or thoughts of suicide or self-harm, support is available. Please take action now by speaking with a mate, a family member, your commander or supervisor or contacting your local Garrison Health Centre.
There is also a range of support services available. You can call Open Arms — Veterans & Families Counselling on 1800 011 046, the All-hours ADF support line on 1800 628 036 and the Defence Family Helpline on 1800 624 608. If life is in danger, please contact 000.