Australian Defence Force Reserves and Employer Support (ADFRES) host an annual Employer Support Awards evening for supportive employers of the reserve workforce.
Held across the nation, winning businesses are selected from five categories with the winners given a chance to receive a national award for their support to Australian Defence Reservists.
Emma-Lee, who is a Signaller for the Army Reserves and a Registered Nurse at Murdoch on St Francis ward, nominated St John of God Murdoch Hospital for the award.
St John of God Murdoch Hospital were honoured to accept the winning award for the WA Private Sector-Large Category, with Director of Business and Service Development Ben Dellar accepting on the hospital's behalf.
"We are very proud to receive this honour, nominated by our caregiver and Army Reservist Emma-Lee. We value her contribution to the Defence Force, to us as an employer, and will continue to support and protect the employment of all caregivers who undertake defence service now and in the future."
The role of Signaller, which Emma-Lee holds, includes duties like providing communications, information systems, cyberspace operations and electronic warfare (CISEW) support to the Army and the Australian Defence Force to allow command and control of deployed forces in peace, crisis and conflict on any operation anywhere around the world.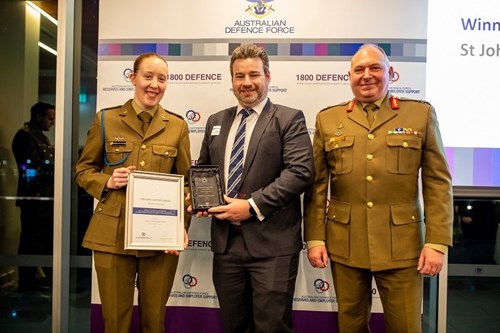 Original article published by St John of God Murdoch Hospital can be accessed via https://www.sjog.org.au/our-locations/st-john-of-god-murdoch-hospital/news/news/2022/10/26/07/49/employer-support-award-presented-to-murdoch
For more information regarding St John of God Murdoch Hospital: https://www.sjog.org.au/our-locations/st-john-of-god-murdoch-hospital