ROYAL Australian Navy Reservist, Lieutenant Peter Velterop has welcomed an award acknowledging the outstanding support that his civilian employer has provided him throughout his military career.
Chevron Australia, one of the world's leading integrated energy companies, has won Defence's State Employer Support Award for Western Australia large private business. The awards recognise the support provided by civilian employers of Australian Defence Force Reservists. Nominated by their reservist employee, these employers offer continuous support and participation in their employee's
part-time military career.
Despite spending five years as a cadet, LEUT Velterop instead stumbled into the oil and gas industry. While he says he hasn't looked back career-wise, he still harboured a desire to serve in some capacity. After meeting a couple of Maritime Trade Operations (MTO) Officers, he was convinced to apply again as an MTO Officer for the Navy Reserve and has served for the past 14 years.
LEUT Velterop said one of the main reasons he nominated his civilian employer for the Employer Support Awards is due to their generous leave policy.
"While I've been with Chevron, all of my bosses have always supported my being a member of the reserves and have never once rejected a request from me to take time for military service," said LEUT Velterop.
"Chevron provide unlimited leave for someone who has been deployed and they'll pay full make-up pay for the duration of a deployment."

Chevron has also established a Veteran's Network aiming to ensure ex-serving members and reservists are represented and engaged at all levels of the company. The Veteran's Network currently has more than 150 members and continues to grow.
The Chevron Australia's Veterans Employee Network Lead, said the network has a diverse range of people. "Some members are ex-military or currently serving reservists, some have a connection to the Defence Force through a family member or friend, and others are just keen to support and understand more about those who serve."
"I'm proud to have highlighted the amazing support that Chevron provides to their reserve employees. Chevron is worthy of recognition and I'm proud that they won from so many other valid nominations," said LEUT Velterop.
"Chevron's commitment to Veteran and Reserve employees empowers them to realise their full potential as both."
Watch the full Employer Support Awards announcement at www.defencereservessupport.gov.au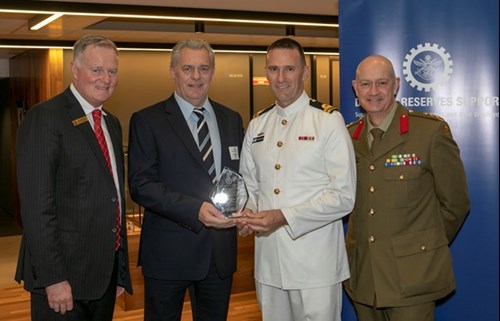 Image Caption: (l-r) Executive Chair of the Western Australian Defence Reserves Support Council, Mr Michael Wheeler; Chevron Australia's General Manager Strategy, Planning and Commercial, PaulWelton; Lieutenant Peter Velterop; and former Chief of Staff Reserve and Youth Division Colonel Scott Palmer. Photographed by LSIS Ernesto Sanchez.