Held at the Anzac Club, Perth, the Awards recognise employers who support their employees to undertake training associated with their Reserve service and deploy on exercises or operations.
Winners of the 2022 Awards were:
Private Sector – Large: St John of God Murdoch
Private Sector – Small: Johnstone Crouse Lawyers
Public Sector - Southern Ports Authority
Not for Profit - WA Association for Mental Health
Honourable Mention Private Sector Large - Ventia Australia
Honourable Mention Private Sector Large - Rio Tinto.
Honourable Mention Public Sector - WA Museum
Royal Australian Navy (RAN) Band member Petty Officer Nigel Barrett paid tribute to his award-winning civilian employer WA Association for Mental Health (WAAMH) for their ongoing support.
"WAAMH recognises the importance of my Defence service and continues to release me on every request to fulfil my Defence obligations," PO Barrett said.
"During an increased ceremonial activity period for RAN Band Western Australia, I required regular time off to support rehearsals and events including ship commissioning and decommissioning, as well as international ship visits.
"Even with COVID-19 workforce pressure on WAAMH, they continued to be accommodating, supportive and flexible to allow me to carry out my Defence commitments."
Head of Joint Support Services Division, Major General Douglas Laidlaw, AM, CSC congratulated Award winners and thanked all employers throughout WA who support their Defence reservist employees.
"The Employer Support Awards acknowledge the contributions made by employers of reservists," MAJGEN Laidlaw said.
"Every day, employers throughout the nation support reservists through a range of flexible working arrangements and policies. The support provided is not only valued by the reservist, but more broadly the entire Australian Defence Force."
Employing a Reservist makes good business sense. As well as the personal attributes reservists bring to a workplace, there is a range of incentives on offer for support to employers.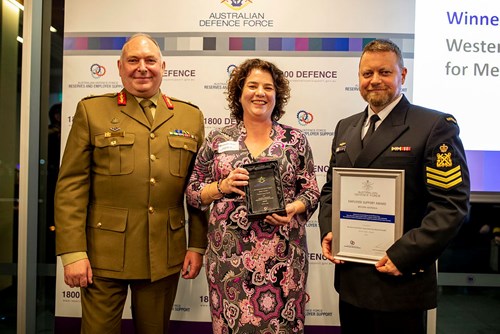 Image caption: Head Joint Support Services Division Major General Douglas Laidlaw AM CSC with Taryn Harvey, WA Association for Mental Health's Chief Executive Officer, and Petty Officer Nigel Barrett at the annual WA Employer Support Awards event in Perth on 18 August 2022. WA Association for Mental Health won the WA Not For Profit category award on the nomination of Petty Officer Barrett.