Defence has begun presenting coveted Reserve Employer Support Awards to organisations that have gone above and beyond for their ADF Reserve employees.
The first of the regional events was for employers in the Australian Capital Territory and south-eastern New South Wales. Defence leaders including Vice Chief of the Defence Force RADM David Johnston, Chief of Joint Operations LTGEN Greg Bilton, Associate Secretary Katherine Jones, and Chief Defence Scientist Professor Tanya Monro were in attendance at the event held at the National Portrait Gallery in Canberra.
Defence congratulates the following winners:
Australian Border Force – Public Sector
DKD Consulting – Small Private Enterprise
Pacific Aerospace Consulting – Medium Private Enterprise
Lockheed Martin Australia – Large Private Enterprise
The Reserve Employer Support Awards recognise the outstanding support provided to reservists by their employers. Without this support from their civilian employers, ADF reserve members could not fulfil their critical roles including serving on domestic operations such as Operations Bushfire Assist and COVID-19 Assist and NSW Flood Assist.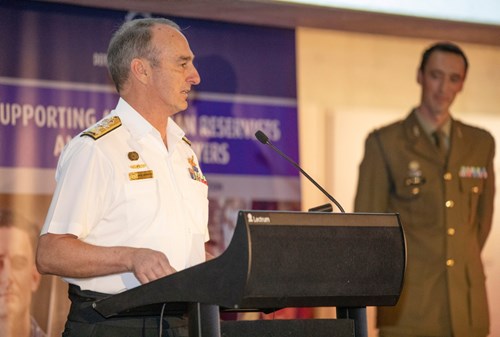 The Vice Chief of the Defence Force, Vice Admiral David Johnston, AO, RAN, gives an address to the guests and award nominees at the Employer Support Awards ceremony held at the National Portrait Gallery, Parkes, ACT.