Held in Adelaide, the Awards recognise employers who support their employees to undertake military service, training, exercises or to deploy on military operations.
Winners of the Award categories were:
• Private Sector – Small: Mv2
• Private Sector – Medium: DEWC Services Pty Ltd
• Private Sector – Large: Nova Systems
• Not for Profit: Immanuel College
• Public Sector: Women's and Children's Hospital
• Honourable Mention Private Sector – Medium: PLC Fencing Pty Ltd
• Honourable Mention Private Sector – Large: Saab Australia
• Honourable Mention Public Sector: South Australia Ambulance Service, MedSTAR.
Adelaide-based Navy reservist Lieutenant Commander Nathan Ebel nominated his civilian employer the Women's and Children's Hospital for the awards in recognition of their flexible leave arrangements and supportive working environment.
"Hospital management is extremely supportive of my Reserve service," Lieutenant Commander Ebel said.
"They see the benefits in allowing me to take time off to serve, as the skills I develop in a military environment are directly transferrable to my civilian work place."
Head Joint Support Services Division Major General Douglas Laidlaw, AM, CSC congratulated Award winners and thanked all employers throughout South Australia who support their Defence reservist employees.
"The Employer Support Awards acknowledge the contributions made by employers of reservists," Major General Laidlaw said.
"Every day, employers throughout the nation support reservists through a range of flexible working arrangements and policies. The support provided is not only valued by the reservist, but more broadly the entire Australian Defence Force."
Employing a reservist makes good business sense. As well as the personal attributes reservists bring to a workplace, there is a range of incentives on offer for support to employers.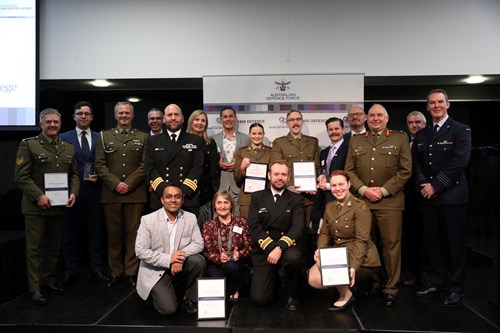 Image Caption: Major General Douglas Laidlaw with the South Australia Employer Support Award category winners and honourable mentions.