By FLTLT Nick O'Connor
While growing up in Melbourne, Dianne Hutchinson always knew she wanted to pursue a career helping people.
Fast forward many years, and now a Major in the Army Reserve, Dianne has touched the lives of thousands of patients through her service as a Nursing Officer.
In 2015 MAJ Hutchison was appointed Lead Nurse for the ADF Arts for Recovery, Resilience, Teamwork and Skills (ARRTS) Program.
ADF ARRTS is an engaging four-week residential program that helps build confidence and resilience in people who are experiencing health and wellbeing challenges related to service in the ADF, ACT Emergency Services, and the Australian Federal Police.
"I had always wanted to be a nurse, however life had kind of got in the way," Major Hutchinson said.
"It was not until my son was 13 that my partner encouraged me to chase my dream so I was a late starter but I took to nursing like a duck to water.
"The highlight of my ADF career is the humbling opportunity to work with those who have suffered during or because of their service.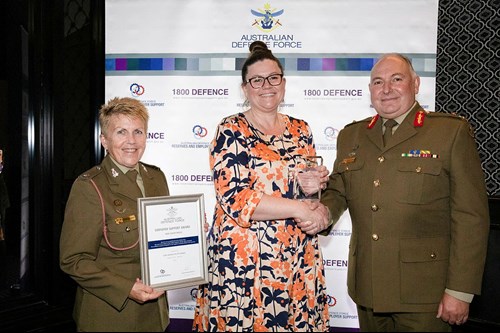 "Working closely with those who have been injured, wounded or become ill and seeing them move through their recovery to find and restore a balance to their lives has no real comparison. I am lucky to be in a position where my service can support theirs."
When not undertaking her ADF Reserves duties, Dianne is a highly valued member of Coffs Harbour Health Campus Intensive Care Unit.
"My Military service draws on my civilian career and vice versa. My civilian career has been influenced by the incredible way that the military requires you to think. There is always another solution and another plan," she said.
"My civilian employer's support of my military service has been unwavering.  Management understands and appreciates the experience of serving can sometimes come with a downside. Their support of me is in fact a support of veterans more widely."
Coffs Harbour Health Campus' flexible working policies in support of ADF Reserves were formally recognised at the Department of Defence NSW Employer Support Awards, where they won the Public Sector Category.
For more information on the Employer Support Awards and the support Defence provides to reservists, visit https://www.reserveemployersupport.gov.au/