Defence recently held the first of their annual Employer Support Awards events, where employers from across the Australian Capital Territory and South East New South Wales were recognised for their support of Australian Defence Force Reservists.
The ceremony, held in Canberra on 21 July 2022 and hosted by the Directorate of Australian Defence Force Reserves and Employer Support, within Joint Support Services Division, recognised employers who have actively assisted their Australian Defence Force Reserve employees within their civilian and military workplaces.
Head Joint Support Services Division, Major General Douglas Laidlaw, said the event highlighted the strong support many employers provided to ADF Reservists, with employers acknowledged at last Thursday's awards ceremony all being nominated by their employees.

"It is a huge testament to these businesses to be acknowledged by their reservist employees as employers of choice," Major General Douglas Laidlaw said.
"Having workplaces that support reservists means that they can perform a variety of roles to assist during times of crisis, it ensures Defence can respond quickly and effectively to assist the Australian community".

Employers, reservists and members of the Defence had a chance to celebrate, build and strengthen relationships and make new connections within ADF and industries.
Ms Davina Mansfield, Operations Manager at Viden Labs said "We see the value that Reserve service brings and the satisfaction they gain. They are all great humans doing great things for our society".
Reservist, Major David Wright, who works at Canberra Health Services as a Senior Staff Specialist Anaesthetist said "I am very privileged to be part of such a great team that allows us to undertake service".

Without exception, all of the nominated employers have provided extraordinary support to their reservist employees, and by extension, to the Australian Defence Force. Defence have the opportunity to recognise these outstanding employers and businesses for the meaningful impact they have made. As you can imagine the nominations were extremely competitive, which is a demonstration to the outstanding commitment this exceptional group of employers.
Defence congratulates the following winners and honourable mentions:
• Private Sector – Small: Viden Labs
• Private Sector – Medium: Coras Solutions
• Private Sector – Large: Accenture
• Public Sector: Canberra Health Services
• Public Sector – Defence: Defence, Capability Acquisition & Sustainment Group
• Honourable Mention Private Sector – Medium: Omni Solutions
• Honourable Mention Private Sector – Large: Deloitte Touche Tohmatsu
• Honourable Mention Public Sector: Department of Foreign Affairs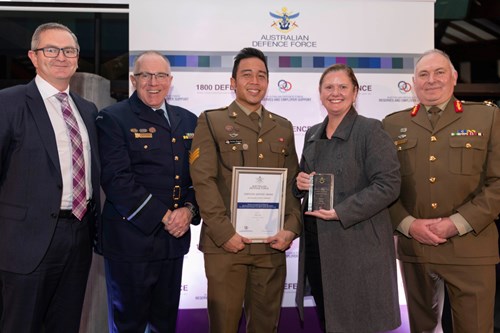 Image Caption: MAJGEN Douglas Laidlaw (centre), Head of Joint Support Services Division, presents an ACT & SE NSW Employer Support Award to Viden Labs' (L-R) Mr Anthony Barnes Director, AIRCDRE Grant Pinder, SGT Newton Thaiposri, and Ms Davina Mansfield on 21 July 2022.